Pretty Stoned Summer Bundle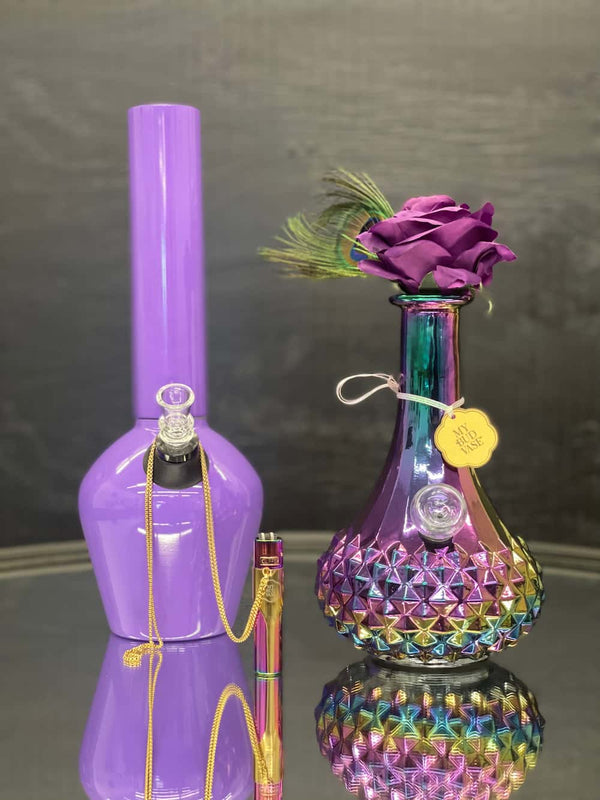 Kicking off Summer '23 with our Pretty Stoned Summer Bundle!
This is your chance to snag all 3 products featured in the new MTV stoner flick, Pretty Stoned! Purple represents creativity, mystery and magic… what more could you want from your best buds this summer? 💜🍃🌞
Bundle includes:
1x Aurora My Bud Vase

®

($125 value)
1x My Bud Vase

®

x Kasher Icy Necklace ($50 value)
1x Chill Neon Purple Steel Pipe ($140 value)
The total value of this bundle is $315, but you can get them all now for the special bundle price of $275—for a limited time only! Bundle disappears May 31 at 11:59 pm PT....or while supplies last!
Product Details:
Aurora My Bud Vase®:
Aurora Vase - H: 8 inches W: 5 inches

Aurora Custom Slide- 9 millimeters 4" Purple Bubble Bowl
Fixed Downstem
Purple Rose Flower Poker & Peacock Feather
My Bud Vase® tag & Certificate of Authenticity
My Bud Vase® x Kasher Icy Necklace:
A functional, stylish tool that you can wear! An Icy Clipper® lighter equipped with a matching Kasher, a tool used to clean your bowl and pipes. 
Icy Clipper lighter - H: 3 inches W: .5 inches

Icy Kasher- featuring My Bud Vase Logo 2 inches
Detachable Golden Chain - Length: 15 inches
Chill - Mix & Match Series - Neon Purple Gloss:
This is the Neon Purple Gloss Chill. Both the Neon Purple Gloss Base and Neckpiece are included. The full package features:
Our Proprietary, Vacuum Insulated Neon Purple Base

Our Standard 8.5" Neon Purple Neckpiece (13" Total)
Durable Aluminum Diffuser Downstem
Borosilicate Glass Slide
Easy Clean Ceramic Interior; Cleans with just ISO
Chill Manufacturer Warranty